Hi there,
I am trying to set the date that a record was modified automatically when I change a record. I am using Microsoft Access 2013, but I think this was originally an Access 2000 database, if that makes a difference
I followed the instructions here:
https://support.microsoft.com/en-us/...8-c246505af66d
Here is the end result: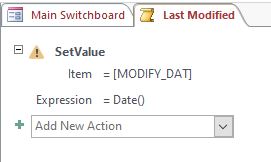 . I then put that into my form field in the "Before Update" Event as instructed in the above link.
But it is not working.
If I try to manually enter a date in that form field, I get this:
which then displays this:
I looked up Error 2425, which led me to this page (among others):
https://bytes.com/topic/access/answe...g-error-2425-a
But I don't understand how to check whether it's Public or in a standard module; much less how to correct the issue.
What puzzles me is that I have used this macro before and it works flawlessly everytime. But the other database is a later version database. Could that be the issue?
Any help is appreciated in correcting this issue. And while I have been working with access for years, in this case, assume that I know nothing (which could very well be true, considering I am pretty much self-taught).
Videot7